What is it?
I've created a software tool called the Peer Review Browser. It's a handy time saving app that automates a lot of the drudgery associated with the IMVU peer review process. It runs on Windows 7, 8 and 10 (and maybe Vista and XP but I haven't checked). This is NOT a peer review robot, but an interactive tool that enhances and accelerates the peer review process.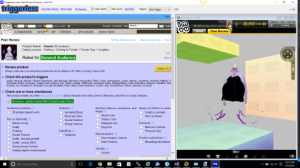 Click for a larger screenshot view
Why do I want it?
Allow me to enumerate what's wrong with Peer Review today:
IMVU makes it awkward to do. You have to click web page buttons and wait for 30 seconds before you can submit your review, even if the product is a hairstyle.
You have to switch between the web browser and IMVU client repeatedly, and this is awkward on a single monitor.
About 99.8% of products in peer review are rated as GA or AP correctly, which incentivizes people to pass everything without paying attention.
If you do flag an AP product erroneously rated as GA (about 0.2% of submissions), it will be marked as an Incorrect Review because everyone else passed it.
The way PR works in practice makes it awkward to test out product triggers.
What can it do?
The Peer Review Browser improves the process in several ways:
Automates button clicks on the peer review web page.
Prevents long-loading product pages with offsite content from loading at all.
Auto-Submit allows hands-free peer review, while still having the ability to interrupt the process when a questionable product shows up.
No more switching between the web browser and the IMVU client. The web browser and IMVU client in a single window.
Single-click Minimum Coverage Guideline (MCG) testing
Test triggers from a convenient drop-down list instead of typing.
When a Recaptcha is encountered, a bicycle horn sound plays (optional), and the Peer Review Browser window will restore from a minimized state.
Reviewed products are saved, and can be accessed later via the web.
How do I use it?
To use the Peer Review Browser:
Download and Install it.
Start up the IMVU client and log in.
Run PRB from the desktop icon or Start Menu (depends on your installation choices).
The first time, you will need to log into the web browser as well.
Sit back and let her rip.
For products with triggers, you can issue those from the drop-down menu.
If you think a product shouldn't pass, you can mark it and flag it – it won't auto-submit if you're flagging it.
If you need more time to review a product, turn off auto-submit temporarily.
Enjoy earning 750 promo credits every day!
Where can I get it?
Version Notes:
(0.80) Initial Beta Release
(0.81) Beta bug-fix release
– Fixed inability to resize main window, smoother IMVU window resizing
– Fixed it so IMVU won't steal focus from other windows when "Show in 3D" is clicked
– Save preferences for main window size and location, splitter position, auto-submit and play-sound.
– Now runs in MSIE 9 emulation instead of MSIE 7 – Captcha is easier to verify and submit now.